HSC Trial Exams are fast approaching. Make sure you use these holidays to effectively prepare for your biggest and most important school exam yet. Plan ahead and follow these tips to get HSC Trial marks and internal ranks you want and deserve. In this article, we share the secrets Band 6 Science students use to ace their HSC trials.
They know what is being assessed
Plan their holiday study schedule
Finalise and revise their notes

Continually refer to the syllabus
Use your Matrix Theory Books

Brush up on their Year 11 content
They practise with past papers
Bonus: Success secrets of Matrix Alumni:

Use specific examples to spruce up your answers
Make detailed experiment summaries
The Ultimate List of Student Success Secrets for Science

Plan for success with a final HSC Trial Exam Checklist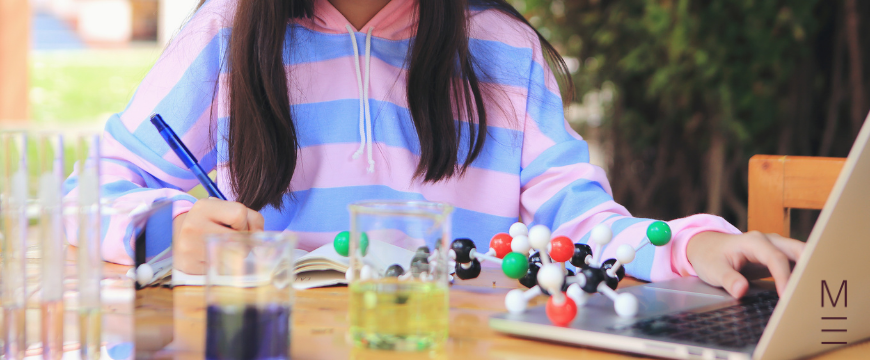 1. Top students know exactly what is being assessed
Many schools don't manage to teach all the syllabus content before the HSC Trials. So, often not all the modules are assessed in their entirety. If your teacher hasn't already made it clear what is and isn't being tested, ask them to confirm. They should specify which syllabus dot points are examinable in your HSC Trial Exams. The top students are across what they know will be in the exam. They ask their teachers and department heads, they plan around this.
You don't want to waste the limited time that you have learning a module that won't be tested. In saying that, you also want to ensure that you aren't missing out on any examinable content. Top students remember that,
Although not all content may be tested in your HSC Trial exams, please note that ALL content can be tested in the final HSC exam — the one that is standardised by NESA all across NSW. 
2. Band 6 students plan a detailed holiday study schedule
Band 6 science students don't waste their holidays, they extract every moment of efficiency out of them. They plan them ahead and make sure they fit in their online study courses, revision, and relaxation time so they get ahead without burning ahead. Remember, top students work smarter, not necessarily harder.
To be like them, before you begin any study, you should plan out your schedule to make sure that you spend your time effectively and don't run out of time.
The first thing you need to do is write down everything you hope to do (study-wise!) by the end of the holidays. Your initial list might look something like this: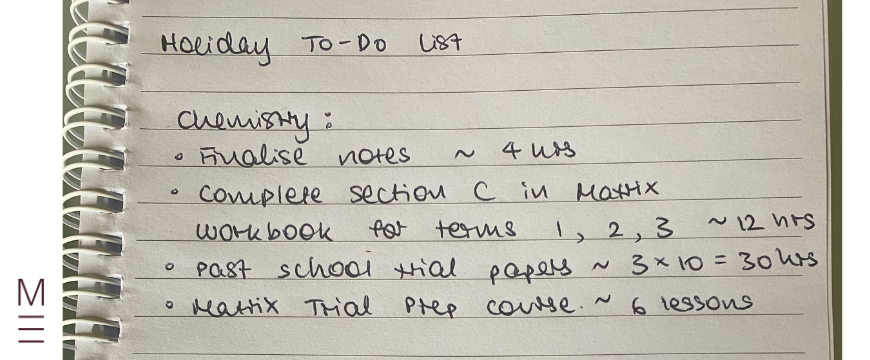 As you go through this article, you might decide to add things or change some of the items on this to-do list. Once you have finalised your list, follow the steps in the Holiday Study Planner (found at the end of this article) to set up your holiday timetable.
3. They revise and finalise their notes
Now that you know exactly what can be assessed, you can now finalise your notes. Here are some tips that will make your notes more efficient and effective:
Continually refer to the syllabus
Your exams can't test you on anything outside the syllabus, so make sure that your notes cover every single syllabus dot point. A fool-proof way to ensure that you don't miss any syllabus content, is to:
structure your notes under syllabus headings and;
tick off each syllabus dot point as you cover it.
Here are links to the NSW Syllabi for HSC and Preliminary sciences, which you can find on the NESA website:
Biology
Physics
Chemistry
Use your Matrix Theory Books
If you are enrolled in the Matrix Trial Exam Preparation course, your Matrix Theory Books are excellent resources that you can refer to. The course condenses all the HSC syllabus content into 6 online lessons and the Theory Book is specifically structured to target syllabus dot points. If you've fallen behind on your notes or can't seem to understand them, make the most of the Trial Exam Prep resources to fast-track your learning.
4. Be like a Band 6 student, brush up on Year 11 content
Year 11 might feel like a lifetime ago, but the Preliminary content you learned then is assumed knowledge and very much examinable. In fact, your exams can contain up to 30% of Preliminary content.
Band 6 students are Band 6 students because they stay on top of their prelim content as well as mastering the new content they learn.
So, when you look over the Stage 6 syllabus, make sure to also take note of Modules 1 to 4 and revise anything that you might have forgotten. Dig up your old Year 11 notes and ask any questions you might have on the Matrix Q&A Board (you get free access to this, as a Matrix HSC Trial Prep student).
5. They practise with past papers!
High achieving science students consistently attempt past papers and practices papers. They prepare for any eventuality through this. Not only do past papers expose you to a range of real exam questions, but they push you to think under time pressure. They are essential to anyone who wants to get a mark that truly reflects their knowledge and ability.
Senior Matrix Chemistry teacher, Dr Michelle Wong offers these top tips for using practice papers:
It's important to:
Mark them and find the areas you are weakest at.
Take note of where marks were awarded in the questions, especially if they were awarded for things you didn't expect.
If you are running out of time to do all the practice papers available to you:
Only attempt questions that you have not encountered before, or questions from your weakest areas. Again, take note of the marking criteria and where marks were awarded.
Skim over the marking criteria for all questions, including areas you are good at. Take note of any places where marks were awarded for things you didn't expect, and see if you can spot things that are consistently awarded marks across many papers.
A lot of students find it difficult to answer long-response questions, so it's essential that you write practice responses, assess them against the marking criteria and ask your teachers for feedback. Your Matrix teachers will always be happy to look over them and work with you to improve them.
What do Matrix past high achievers do?
The Matrix Student Success Secrets Blog is filled with heaps of handy tips from our students that will help you ace your exams. We've cherry-picked a couple from our top achievers.
Use specific examples to spruce up your answers
Make detailed experiment summaries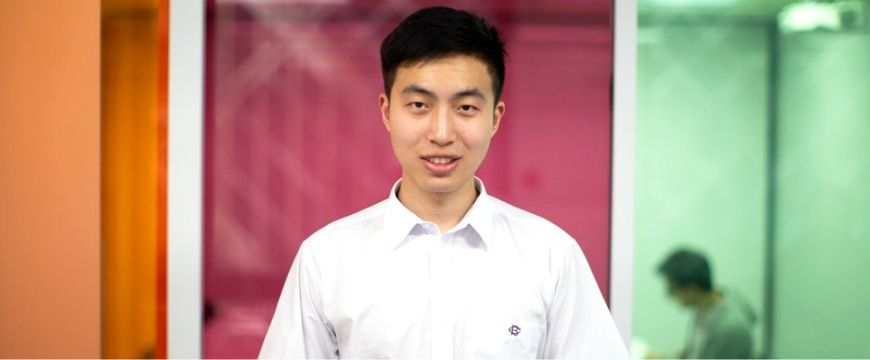 Matrix alumni David Lu graduated from Barkers College with a 99.95 ATAR and 4 State Ranks for Physics, Chemistry, Maths Ext 1, and Chinese and Literature.
Science experiments are a major focus of the syllabus. So, David knew that it was crucial to understand and remember the experiments clearly. His advice is that you write detailed summaries which documents all aspects of the experiment.
This includes:
Theory associated
Aim
Method
Conclusion
Sources of error (random and systematic)
Accuracy
Reliability
Validity
Here's a snippet of his summary notes for the photoelectric effect experiment: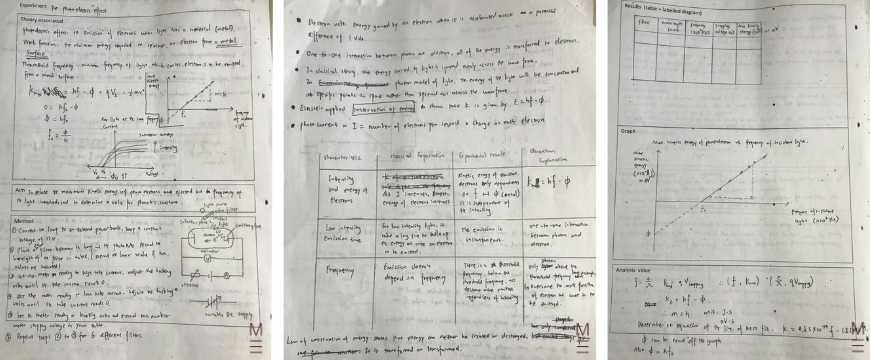 David shares the rest of the Science tips he used to come 1st in state for Physics in his article.
What to know how other students aced their science exams? Here's the Ultimate List of Student Success Secrets for Science:
Chemistry Success Secret articles
| | |
| --- | --- |
|  Success Secret |  What is it about? |
| Ashish's Hacks: How I Scored An ATAR of 98 | Ashish goes through some useful Chemistry tips and general organisation advice to help you ace your Chemistry exam too. |
| Cecilia's Hacks: Ace HSC Chemistry by Targeting Your Weak Spots | Cecilia details 4 main tips she used to target her Chemistry weaknesses, and shares some exam-taking advice. |
| Martina's Hacks: How I Went From Ranked 48th to 1st in Chemistry | Martina explains 6 methods she used to boost her rank from number 48 to number 1 in Chemistry. |
| Ragulan's Hacks: How I Achieved a Band 6 in HSC Biology, Chemistry and Physics | Ragulan shares some subject specific tips for Biology, Chemistry and Physics. |
| Rohan's Hacks: How I Came First in NSW for HSC Chemistry | Rohan goes through his 4 top secrets to coming 1st in the State for Chemistry. |
Physics Success Secret articles
| | |
| --- | --- |
| Success Secret |  What is it about? |
| David's Hacks: How I Came 1st in Physics and Achieved a 99.95 ATAR with 4 State Ranks | David shares 4 unique and useful Physics tips that helped him come 1st in the state. |
| George's Physics Hacks: Physics Hacks for Year 12 Students | George goes through his 6 top tips to study for Physics and ace it. |
| Jay's Physics Hacks: How I Scored an ATAR of 99.15 | Jay explains 5 useful hacks he used to ace Physics and score a 99.15 ATAR. |
| Kia's Physics Hacks: How I Aced HSC Physics and scored a 99.15 ATAR | Kia shares 5 top advice to help you ace your Physics exams like she did. |
| Matthew Drielsma's Hacks: How I Aced HSC Physics | Mathew discusses 3 core things you need to do to ace your Physics exams. |
| Ragulan's Hacks: How I Achieved a Band 6 in HSC Biology, Chemistry and Physics | Ragulan shares subject specific advice for Biology, Chemistry and Physics that he used to achieve a 98.95 ATAR. |
| Wasim's Hacks: How I Topped Physics at Fort Street High | Wasim shares his top Physics hacks he used to top the subject at Fort Street High. |
Biology Success Secret articles
| | |
| --- | --- |
|  Success Secret |   What is it about? |
| Ragulan's Hacks: How I Achieved a Band 6 in HSC Biology, Chemistry and Physics | Ragulan goes through specific Biology advice to help you write full mark responses. |